Affordable energy efficient housing: The Proposed Tema Community 23, Greater Accra Region.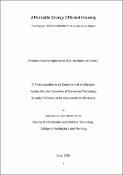 Authors
Abstract
Globally, affordable energy efficient housing has become a better option for providing adequate housing for urban dwellers. Most developed countries have considered the option passionately and have been enjoying the benefits of allocating resource towards developments of such nature. Some of the benefits include low energy use, low operational cost and increased rate of development of housing units. However, this has not been given adequate attention in developing countries like Ghana where the adverse effect of rapid population growth on housing delivery for urban dwellers and energy use in housing is prominent. The adverse effect includes the accumulation of housing deficit and energy crisis. The housing deficit was 250,000 units in 1985, 300,000 units in 2002 and in 2006 it was 500,000 units. To help solve the problem, this thesis investigates the benefits of tropical architecture design principles such as the use of passive ventilation techniques, use of courtyards, building orientation, appropriate window sizing and placement. The use of compressed earth as walling material, design standardization, efficient land use planning and measures put in place to reduce energy use in the buildings were also considered. The advantages of encouraging the use of energy saving technologies such as light-emitting diodes (LED), air conditioning exchangers (HVAC) and biogas in the Proposed Affordable Energy Efficient Housing for Tema Community 23were highlighted. The proposed affordable energy efficient housing for Tema community 23 may serve as a good model to help government and private developers to increase the supply of adequate housing units. It also serves as case to encourage policy makers to develop and enforce measures for ensuring that energy is efficiently used in buildings to prevent energy crisis.
Description
A thesis submitted to the Department of Architecture, Kwame Nkrumah University of Science and Technology in partial fulfillment of the requirements for the degree of Master of Architecture on June, 2008.
Collections